Playing the world's lowest golf course
Furnace Creek golf course carries the distinction of being the world's lowest golf course, settled-in at 218 feet below sea level. Summer temperatures in Death Valley can reach in excess of 130 degrees, but in the winter months the climate is ideal, with cool breezes and temperatures in the 60's, perfect for golfing.
It has wide open panoramic vistas and breathtaking views:
They say that ball travel is impeded below sea level and that you should add two clubs to each shot to compensate the increased air pressure. Our friend Brad Clayton is a PGA Master professional, and he recommended that we try it.
If you want the experience of frying an egg on the hood of your car or feeling your sneakers melting into the rocks beneath you, visit Death Valley in July and August. Kids love it, and it's safe so long as you pump some salt pills into them and insist that they drink at least a pint of water per hour.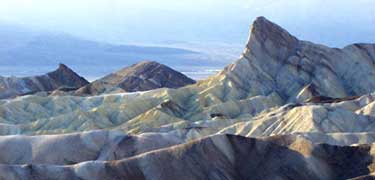 I'm not kidding when I say that your shoes will melt! Summer temps are regularly over 120 degrees and the ground is about 80 degrees hotter that the air temperature. Death Valley is great fun, and they have "Badwater", the lowest point in the Western Hemisphere:
There is also "devil's golf course" and the "racetrack", worth seeing:
We stayed at the Furnace Creek Resort, an art deco masterpiece nestled in the desolate Funeral Mountains, built in 1927.
The Inn is a true oasis, and includes a babbling brook of hot water (geothermal, not heat induced) and a grove of 70 year-old palm trees. In the fall and winter months, you can warm yourself on the naturally heated pool and enjoy the warmth of massive a pinion wood fireplace near the pool!
Death Valley is a haven for artists and photographers, and for good reason:
John Garmany and I spent time in China Lake working for the military, and the weekend was a great time to visit Death Valley. This area surrounding Death Valley sees mini earthquakes which cannot he seen or heard, but you will get a felling of extreme dizziness and nausea as the land shifts silently you! P
eople who work in the China lake area have those hanging ball toys which sway, indicating a minor tremor.
If you get a 4WD, make sure to see the racetrack where stones move mysteriously across the desert floor:
This Youtube video on the racetrack shows the rocks moving.
See my notes on Furnace Creek golf course and touring in Death Valley.